3D Cryptic Calendar Puzzle 2010
A superb present for lovers of cryptic crosswords
A 13 month calendar with 3D crosswords designed by Sirius
Clues set by the cream of the UK setters
A clue for every day, a grid for every month
Monthly competitions to win a dictionary
Title at stake World 3D Crossword Champion
Clues recorded by BBC Presenters
Forewords by Colin Dexter and Sarah Montague
Every penny of profit being at least £3 per calendar sold to The BBC Children in Need Appeal
Orders before December 10th should arrive before Christmas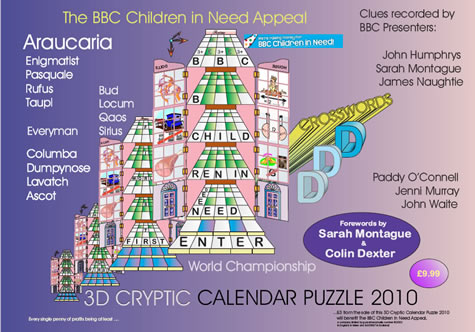 This is a 32 page A4 booklet opening to A3 for hanging as a calendar or to keep as a booklet for puzzling.
The title and trophy will be awarded to the solver of all 13 puzzles after a tie-break requiring skill and imagination.
There is a Forum for discussion and support during the year on this website. You can contact Sirius at for more information.
The crossword setters, grid setters, BBC Presenters, editor, graphic designers, lawyers, accountants, IT specialists. audio programmers and other consultants have given their work freely to benefit disadvantaged children.
Every single penny of proceeds above costs being at least
…£3 from the sale of this calendar will benefit The BBC Children in Need Appeal, a company limited by guarantee (charity number 802052 in England & Wales and SC039557 in Scotland).